always sustainable & locally grown
california bells aims to celebrate
the blooms already present in our beautiful landscape
to support our philosophy, we:
Highlight coastal sage and chaparral plants
Embrace unique looks and color combinations
Use fauna-supportive gardening methods
Add no chemicals
Water only as needed
Use upcycled and recycled materials whenever possible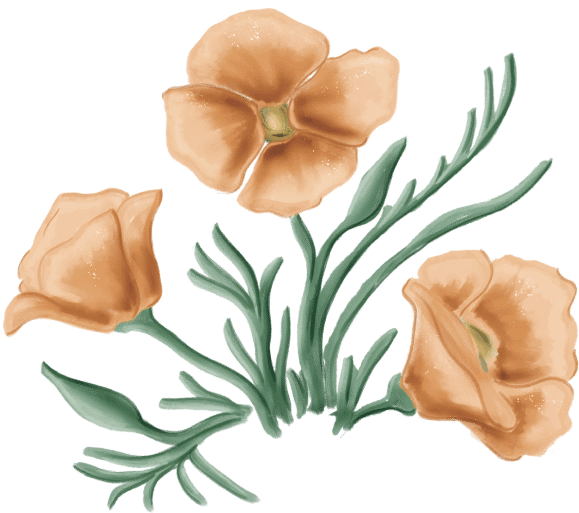 California Bells started during the early days of Covid. During my years as a teacher, my garden had become overgrown, so as a quarantine project, I ripped everything out. The bareness of the garden was beautiful in its possibility! To start, I tried the easier natives – yarrow (Achillea millefolium), California buckwheat (Eriogonum fasciculatum), and coast sunflower (Encelia californica). They thrived so quickly and with such little attention that I was hooked. And the butterflies and bees really did start showing up!
Today, I mix perennials, wildflowers, and edibles, mostly from my local plant community – coastal sage scrub. Favorites include California goldenrod, which blooms even in the heat of summer, and bird's-eye gilia, a purple-and-white wildflower that looks dainty but thrives in bouquets.
the story of how it began
I spent many happy years as an English professor and journalist. Gardening was my hobby. The pandemic quickly changed my focus and highlighted the importance of our local ecosystem. One plant at a time, I converted my yard to California natives and helped three neighbors do the same. When I returned to teaching, I joined the Edible Schoolyard program at Hollygrove Elementary. The experience of sharing gardening with the next generation inspired me to mix my passion for educating and native flowers by starting California Bells.
I study through classes at Theodore Payne Foundation and UCLA Extension's Sustainability Program.
neighborly tips:
A native plant is a species that originated here and was not introduced from another region of the world.
On average, California native plants use ⅓ less water than standard nursery plants. Since they originated from areas that tend to receive little rainfall, they need very little supplemental water.
Yes! Even delicate-looking flowers like poppies can last several days when kept away from heat and direct sunlight.
You may have tried milkweed for monarchs, but there is so much more. Try yarrow and California buckwheat for the blues, hairstreaks, painted ladies, and metalmarks! The more you plant, the more you will attract. California Bells encourages further reading at Theodore Payne Foundation and other native plant nurseries.
The key is to plan for the plant's full size. Many natives can grow big! Allow them the space to do so in order to avoid looking overgrown.
Many natives also go seasonally dormant, so rest assured they are not dead but going through their cycle.
That's my specialty! California Bells loves working with what's already there. Many existing low-water plants thrive well with natives, and a garden can look better with just a few touch-ups.